Welcome to Lybrand Redesign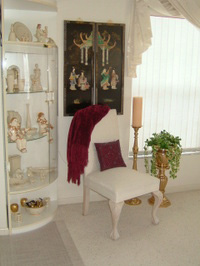 Do you still love your furnishings and family treasures, but feel you could use a refreshing and new look?
I will take the best of what you have and give you amazing results. In just one day or less, I can give you a new look, created with a designer flair, at a very affordable price.
Let me add warmth and beauty to your home without you having to purchase additional furnishings or accessories. By "shopping" your home for treasures and furnishings that you already have, I can use them to transform your home -- giving it balance and harmony that reflects your taste and style.
If you are selling your home, I offer the service of staging. By using the technique of staging, your home will be given an added flair and appeal, leading to a decrease of the number of days the house remains on the market.
I also offer a range of other services, including assistance in getting organized, moving, shopping, design-tweaking, and other consultations.
Please let me transform your home into all you dreamed it could be, a haven of comfort, warmth and balance. I look forward to talking to you and working with you......